When you are looking at instruments, especially string instruments it can be a daunting task. You realize that you or your child want to play and you think it will be simple to get started, but there are a lot of decisions to make.
1. Online String Stores
In the United States: When I was in Washington state and teaching orchestra for many years in the Central Kitsap Schools, my two online string resources for purchasing a solid beginner instrument were Southwest Strings and Shar Music .
In Sweden/ Europe: Now that I am living in Herräng, a bit north of Stockholm, I have found the German-based music shop Thomann to be a great online resource.
2. Choosing a Store & Instrument
Don't Buy from some online retailer that sells EVERYTHING. Ideally, you should go in person to a shop and get a chance to try the instrument. But, when online seems to be the best option for your location or circumstances- make use of online tools to hear what the instruments sound like before you purchase. (Remember that you are not going to sound exactly the same as the person playing the demo until you have training on playing the instrument, but you can at least hear the differences between the instruments a bit.) You can find some budget options on the sites I listed above- such as
Generally speaking within these two series, as you pay more, you will get better quality.
3. Types of Bows
In your bargain instrument price range, you typically see carbon fiber and Brazilwood bows. I think mostly the horrible-sounding, but sturdy fiberglass bows have disappeared. I don't like the brazil wood bows as they tended to need to be over-tightened in order to play correctly and over time, they would warp very easily. The only real advantage is they have a little warmer sound, but I would generally opt for a carbon fiber bow in the low price range. If you can get a bow that is Pernambuco, when you get into a little higher price range, then this will be a harder wood and have a longer-lasting quality.
4. Sizes of Instruments
If you are an adult, you should get a 4/4 or full-size violin or cello. If you are buying a viola, then the size will vary depending on your frame and arm length. If you are buying for a child, then ideally you should talk with a teacher about sizing the child or go in person to a store where they know how to do this. With the violin or viola, I like to have the child hold their arm straight out to the left and place the violin or viola under their chin. The child should be able to wrap their hand around the scroll of the instrument, without being super strained with their arm ( a little bend in the arm is good). If the child looks to be in between sizes this is a time to pick the smaller size. I know as parents we are always trying to look out for our kids and get something to grow into, but you can always play on an instrument that is too small for you, but it's very difficult to play on an instrument that is too big.
5. Shoulder Rest & Chin Rest for Violin or Viola
If you are playing violin or viola, you should also look for a shoulder rest. Some people who have a very short neck prefer to play without one or with a simple small sponge under the instrument, but most of the time I would say it makes it easier to play when you have some sort of shoulder rest.
Kun brand is reliable for someone with a shorter neck length. This is a good place to start if you are not sure what to get when you first start playing.
Bonmusica is good for those with a longer neck and this is the shoulder rest I currently use, but I have tried many different combinations of shoulder and chin rests over the years to try to get the most relaxed playing position possible. Finding the right combination could be something that takes some time.
And if you have a really long neck like me, you might also consider raising your chin rest height with something like the SaS chin rest which comes in different heights. I use these on my violin and my viola, the only tricky part is that some instrument cases don't accommodate these, so you might have to take off the chinrest when putting your instrument away.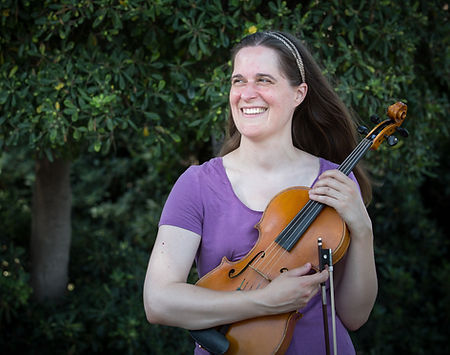 I'm Leah Irby and I specialize in helping beginners get a good start on their chosen instrument. If you still have questions and are looking to get started with music lessons, either in person in Herräng or online, send me a message to see if we would be a good fit to work together.